by Keisha Katz (Originally published on SharpHeels.com)
Tablets and Smartwatches and Media Players, Oh My!
The season of giving has arrived, and finding the perfect gift for that tech-savvy person in your life can be a challenge.
So to kick-start your search efforts, below are five gadgets that come highly recommended this year and stand out within their respective categories.
Streaming Media Players
The Roku 3 can be expected to be on many wishlists for this holiday season.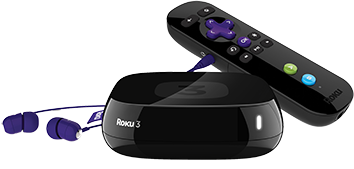 Having sold ten million streaming media players in the United States since 2008, the company contends that they have more streaming options than their competition. (Similar streaming devices like Google Chromecast, which sells for less than half the price of the Roku 3, and Apple TV, have failed in comparison to the Roku in sales, according to market researchers.)

Roku's success can be credited to their wide selection of more than 1,800 channels, including favorites like Netflix, Hulu Plus and Amazon Instant Video, PBS, YouTube and Watch ESPN (some subscriptions required). For cable subscribers, the Roku 3 provides added on-demand options for multiple stations. The player is regularly priced at $99, but shoppers can find deals as low as $85 on Amazon and at Best Buy.
Smartphones
The new iPhone 6 is a stocking-stuffer staple this year. Whether you're a fan of the iPhone 6 or its companion, the iPhone 6 Plus, this new device is a known improvement for current Apple users: both devices are faster, have larger screens, thinner bodies, and better cameras in comparison to previous iPhone versions.
The new Health app, along with the ability to use Apple Pay, a wireless pay system, is an extra perk of upgrading to the newest iPhone. Other smartphones on the market, such as the Android-based Samsung Galaxy S5 and the LG G3, are also popular this season. Yet the iPhone has developed a reputation for consistently being at the top of its class.
Wearable Tech
This year, smartwatches – previously the exclusive province of James Bond movies and Jetson cartoons — have been making an impact within the wearable tech industry.
Gadgets such as the Samsung Gear Live, Motorola's Moto 360, the ASUS ZenWatch (pairable with the latest Android devices) and the unique Pebble Steel watch (compatible with select iPhone and Android devices) are among the top competitors this holiday season.
The Pebble Steel is water resistant, so there's no need to remove it for a dip in the pool or a refreshing shower. It also has several apps that can be installed including GoPro, Runkeeper, Yelp and even a version of Twitter. Like most timepieces, the Pebble Steel provides a lot more than just the hour of the day, and can assume the role of your personal trainer, meteorologist, personal assistant and on-demand DJ.
Currently, smartwatches can cost between $99-$299, with the Pebble Steel listed for $199 online and in retail stores. If you're not impressed by what you see this December, you might want to give an IOU wrapped with a bow and hold out for the Apple Watch, expected to be released in early 2015. Its design and compatibility with the iPhone 5 or later devices may make it worth the wait.
Tablets
If you're thinking the special person in your life could use both a laptop and a tablet, you're on the same track as the best minds at Microsoft. Their Surface Pro 3 has set out to win over consumers with its promise of having the capability of a laptop with the mobility of a tablet.
Operating on Windows 8.1, the Surface Pro 3 starts at $799 for the basic processing system, but can cost up to $1,500, depending on the user's needs: while the Surface Pen is included, the acclaimed Type Cover keyboard — which bumps the device up to laptop status — is sold separately. The Surface Pro 3 does however include a full-size USB 3.0, microSD card reader, and two HD cameras built-in to the front and back of the device.
What sets this device apart from other tablets is its applications and Microsoft's partnership with Adobe; users can install the entire Microsoft Office Suite and Adobe Creative Cloud applications (including Photoshop and Illustrator) on the device, making it a plausible gift for business professionals and creatives alike.
Virtual Accessories
Non-conventional tech accessories pop up every year, but only some are true game-changers.
Whether you're comfortable working on a tablet or your smartphone, the Epic laser keyboard by Celluon is prepared to make your typing experience easier and so much cooler: a pocket-sized box holds the technology to connect, via Bluetooth, to your cell phone or tablet and project a full keyboard image on most flat surfaces. The keyboard itself doubles as a mouse, and is said to have a battery life of about two hours. For $149, this tech gadget is a definite standout.